Self Care (420) Print & Postcard
Open media in modal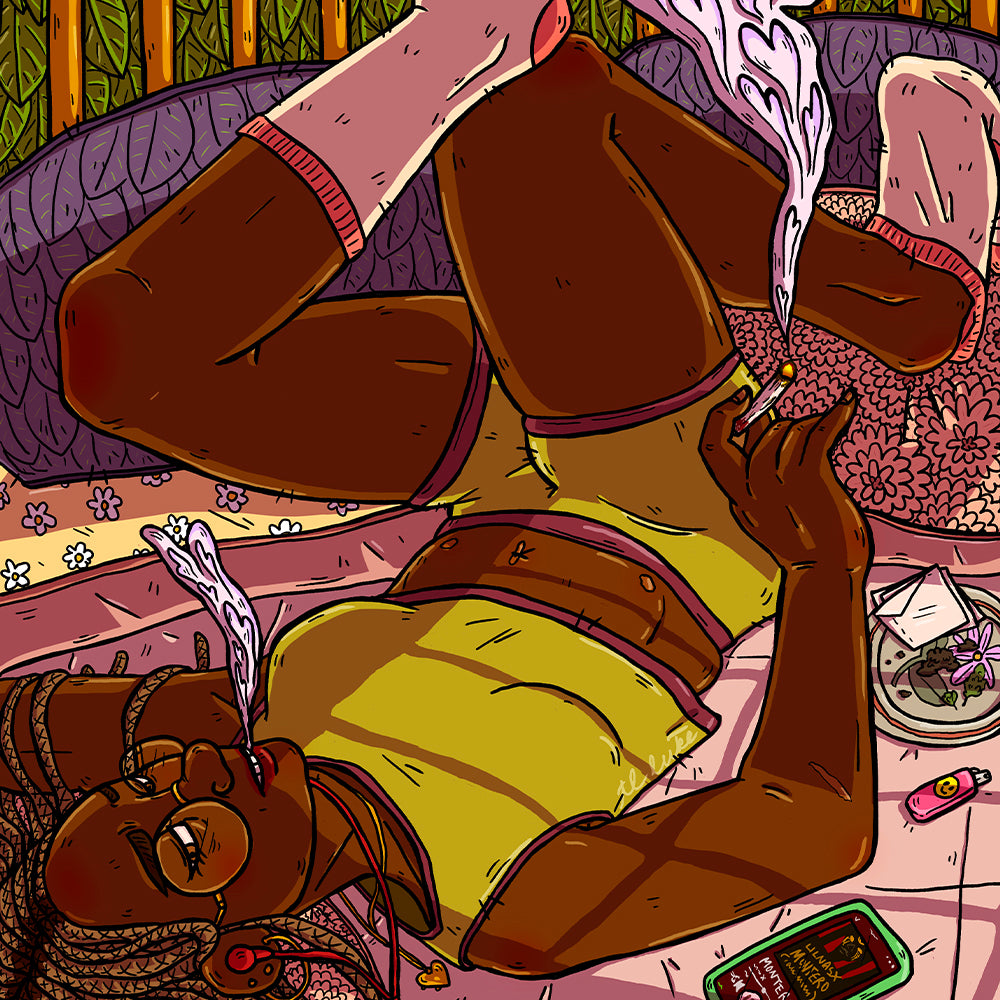 Open media in modal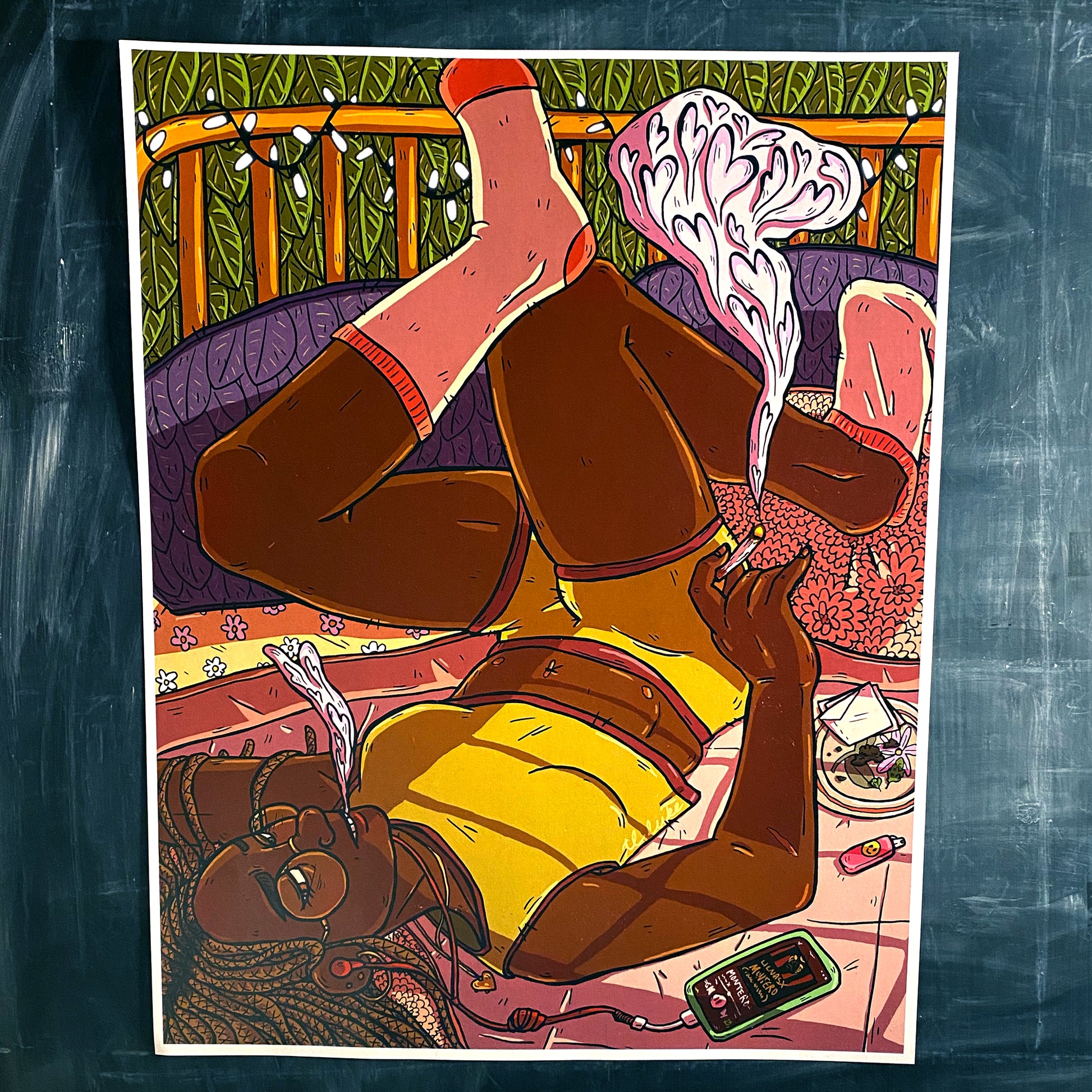 Open media in modal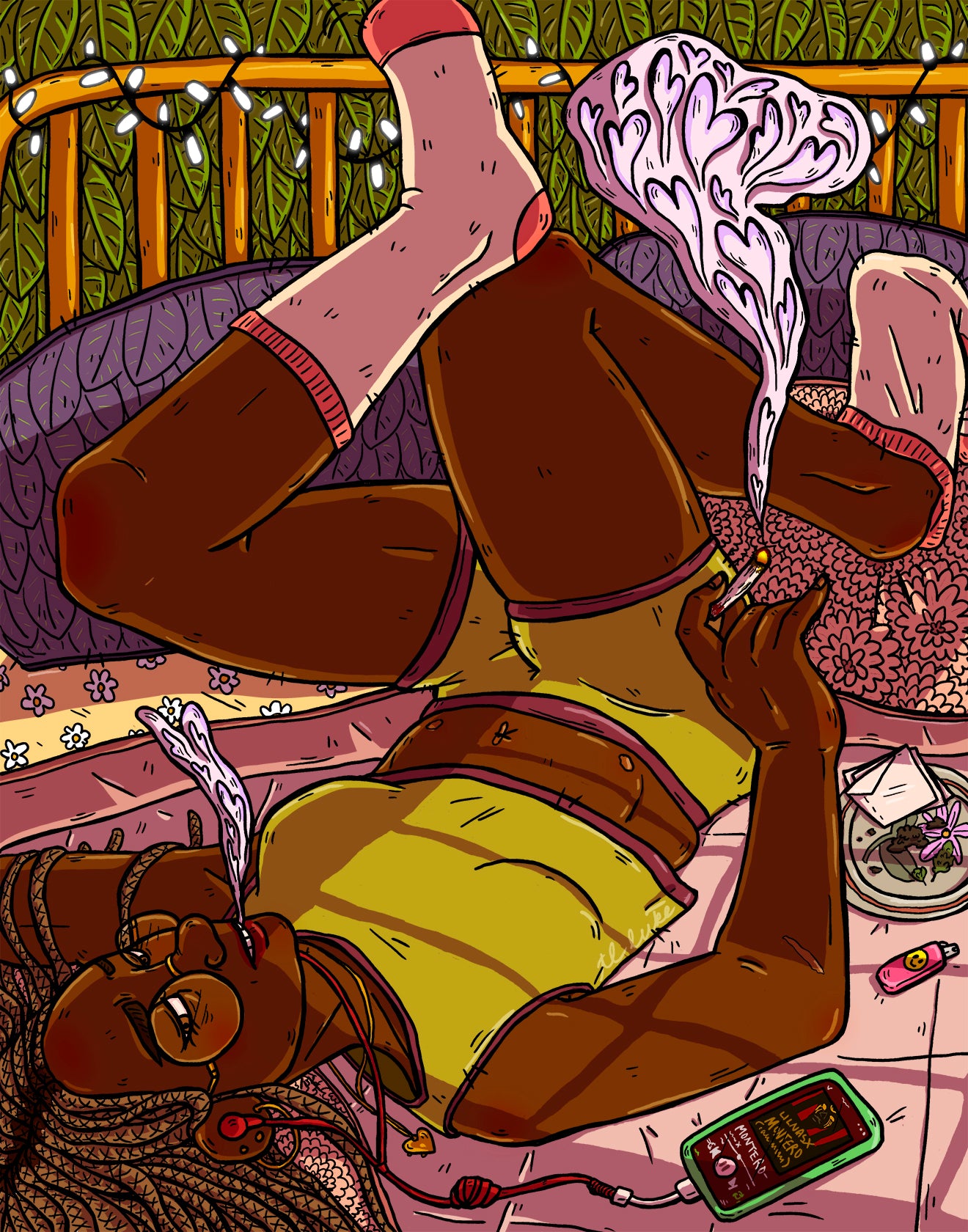 Self Care (420) Print & Postcard
Let's Talk About Weed!
Marijuana has been slowly becoming decriminalized and legalized across the United States (for example: my home base in Madison, Wisconsin has been decriminalized, here's a list of Wisconsin cities with their updated statuses via NORML), and yet there are still people (majority Black) imprisoned for marijuana possession. Most of that is straight up racism, but another factor is misinformation from politicians citing harmful myths about marijuana and painting it to be a dangerous gateway drug. 
That is why our goal is to update your marijuana perceptions, normalize the images of smoking marijuana as we have with casual drinking and smoking tobacco, and share the mindful beauty of recreational smoking. 
That being said, we don't all get to celebrate weed until everyone can do it safely; so by buying these prints, you will automatically support the main organization making that a reality:
15% of all 420 merchandise sales will be donated to the Last Prisoner Project, a non-profit organization dedicated to cannabis criminal justice reform, including partnering with the Association of Criminal Defense Lawyers to launch the Cannabis Justice Initiative which is "[pursuing] multiple avenues of relief for those directly impacted by a cannabis conviction and its consequences through clemency, compassionate release, expungement, and reform." 
So, thank you for supporting healthy marijuana imagery, knocking down myths about weed, and supporting the Last Prisoner Project! Together, we can be the change that we want to see in the world! 
Helpful Resources:
ACLU - Marijuana Arrests by the Numbers - Helpful statistics showing the racism behind marijuana arrests (Black folx are 6x more likely to be arrested for marijuana possession in Wisconsin than white people.) 

LeafCann - Common Misconceptions About Cannabis - This is one of the better resources discussing the most lasting and damaging myths surrounding marijuana use (such as it causing brain damage and being a gateway drug) among other helpful tools. 
Forbes - More People Were Arrested For Cannabis [In 2019] Than For All Violent Crimes Put Together, According to FBI Data + The FBI Data - Here is a Forbes article that came out in 2020 detailing how common marijuana convictions still are despite it becoming widely accepted, decriminalized, and legalized across the country. Also, the FBI's 2019 Crime Report for your reference!
Specifics
11x14 inches (Standard Size) on Heavy Letter Paper (Satin)

5x7 inches (Standard Size) on Heavy Card Stock (100% Recycled)

Smoked While Illustrating: Durban Poison, Sativa (link goes to Leafly.com with helpful strain information)