Newly-Out Soft Boy Postcard
Open media in modal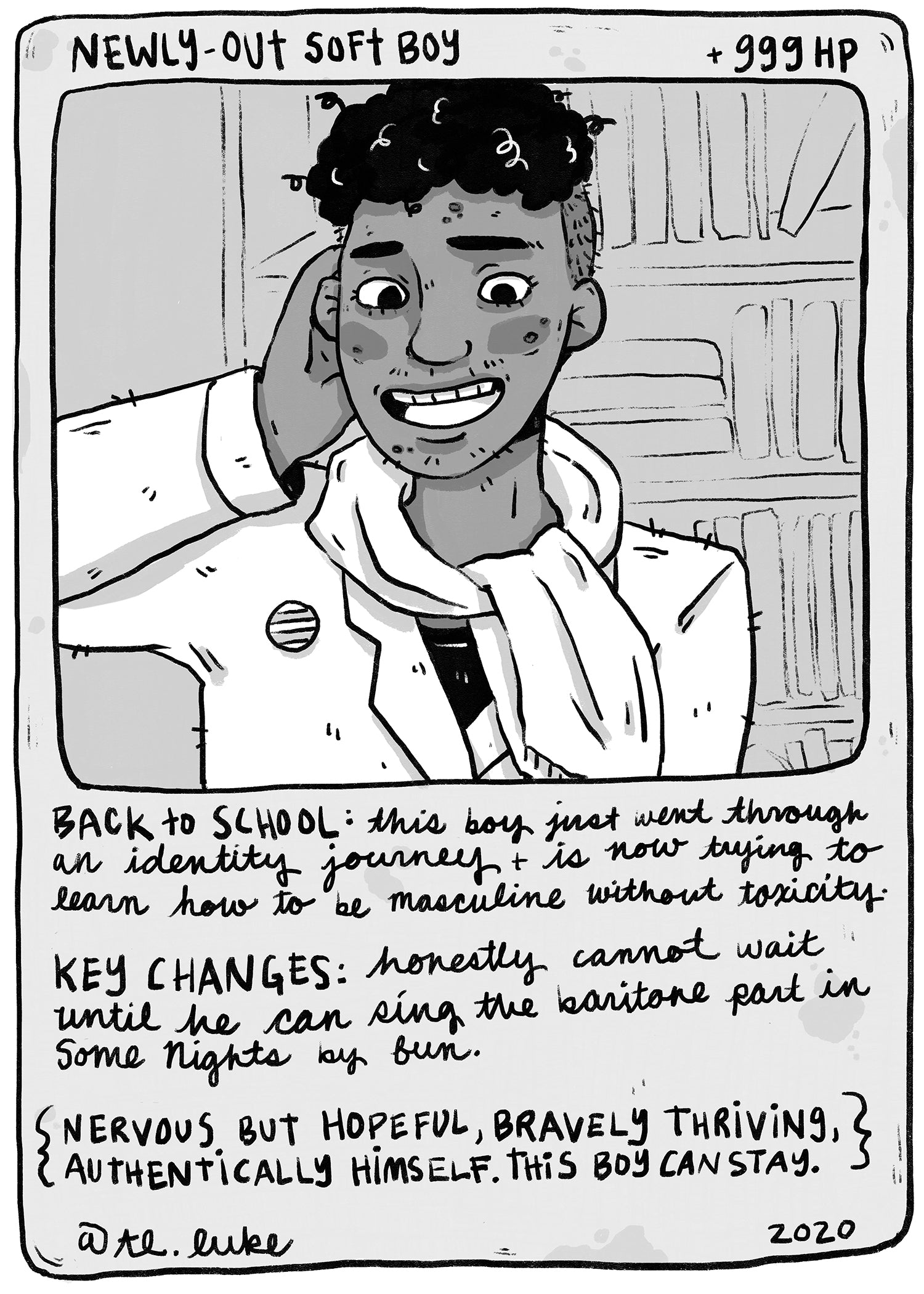 Newly-Out Soft Boy Postcard
Welcome, Newly-Out Soft Boy!

Have one of these soft boys in your life? Gotta collect them all!! 
I started drawing these lil' trading card inspired illustrations to show my gratitude to the boys in my life who are very soft and trying their best to distance themselves from toxic masculinity. It is a HARD THING TO DO, especially when being toxic is still pretty rewarding in our society (but less so~~~ and changing~~~).
This series is also an effort to encourage dewds (and friends of dewds) to please continue to go against society's "manly man" expectations, support marginalized groups, and be good allies. We really do need you to continue to challenge other dewds to adjust their outlooks since we sometimes cannot reach those types of people alone.
So, thank you to the soft boys out there! I see you and I want you to stay!  
Specifics
5x7 inches (Standard Size)

Heavy Card Stock
Image ID
[Bust of a Black trans boy, growing in chin and upper lip stubble, a bit of acne because HRT, blushing, open mouth as if mid-speech, looking bashfully downward with his right hand scratching behind his head nervously, wearing a buttoned white blazer, French-tied white scarf, black shirt underneath, with a trans flag pin on the right side of his blazer. The illustration is completely black and white except for the background of the card which is purple and glittery.]
Back to School: this boy just went through an identity journey + is now trying to learn how to be masculine without toxicity.
Key Changes: honestly cannot wait until he can sing the baritone part in Some Nights by fun..
{Nervous but hopeful, bravely thriving, authentically himself. This boy can stay.}