Hire. Local. Artists. Stickers.
Open media in modal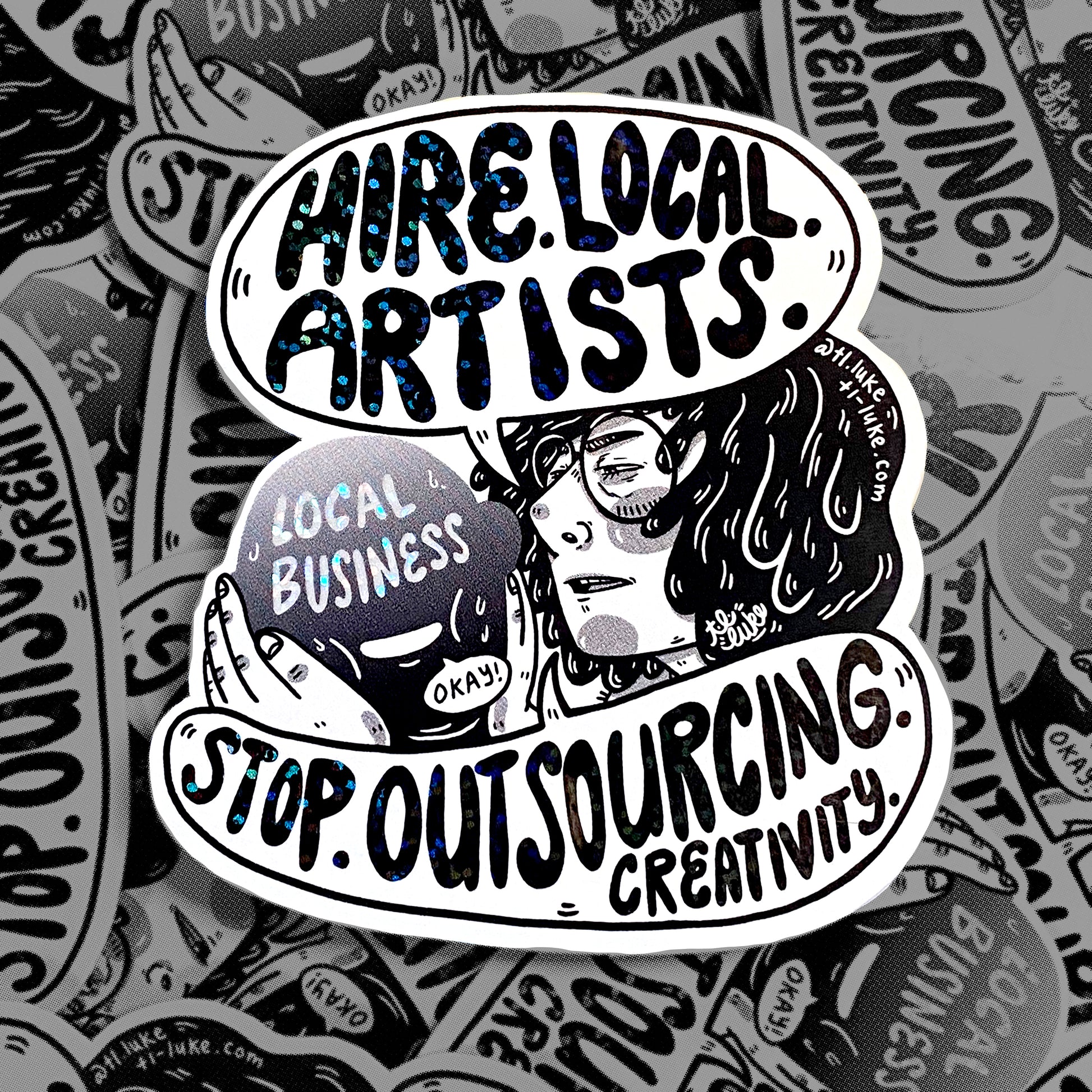 Hire. Local. Artists. Stickers.
Hire. Us.
In the same way that purchasing from local small businesses helps the local economy, hiring local artists—who are, in fact, local small business owners themselves—creates the same positive feedback loop in keeping said economy in our local communities.

Too often, I have heard local businesses, organizations, and non-profits BOASTING about the artists they hired from London or New York or Los Angeles, to come in and paint a mural or design new merchandise, in the SAME style and skillset as working, professional artists here in Madison. In effect, all these local businesses did was help fund another community while we have artists here who are struggling to pay their studio rent because another big profile job was given to some guy in Brooklyn. 🤷🏻‍♀️

A lot of this is education. Madison doesn't have a reliable artist directory for local businesses to even KNOW who the local artists are in the community. People can't know what they don't know, you know? 🤪If only they had another local resource that DID exist….

…Oh wait, we have local art organizations! Instead of Googling, hiring a nonlocal artist, and paying expensive travel fees, local businesses should start to identify who in the community may have that kind of information. Local art organizations will have actually WORKED with local artists 👩🏻‍🎨, know their styles, and can be a liaison between your business and their practice. And it's the job of the organization to offer some variety instead of suggesting the same group of white guys to paint every single mural in town. 👀

So, until we make a Madison artist directory, my advice to local businesses would be to ask organizations like @communicationmadison, @artlitlab, and @dane.arts, who have reliably been working with and for Madison artists, where to begin. (And don't worry, you won't have to wait too long for that artist directory~ 😈)

And that's it! Hire. Local. Artists. Stop. Outsourcing. Creativity. 

Your artist equity advocate auntie, TL

(Text pulled from my Instagram Post! Give it a like and share it with you friends!)
Specifics
3.7 x 3.9 inches
Weatherproof & Waterproof, g

ood to put on water bottles, cars, and anywhere else you like!

Easy peel back so you don't damage the edges trying to remove the backing!
Glitter!!! This is a glitter effect but is not real glitter, so no stress about getting glitter anywhere! Think of it like a Pokemon or MTG foil/holographic.